The N.E.X.T (Northeast XTreme) Challenge was fun though quite stressful. Went around Northeast Singapore Amazing-Race style solving stations. Although we didn't get the top 3 prizes, it was quite an experience to run around like mad dogs with ginger stuffed up their anus... or maybe not. And Joey got a $40 NTUC voucher in the lucky draw!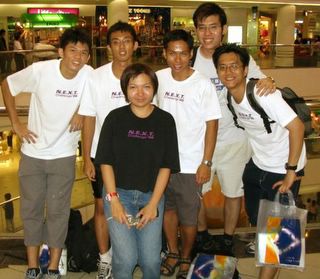 Our Team, Fast Forward -
Clockwise from Jacqualine: (Jacqualine, Joey, Tan Chee Wee, me, Kelly, Ivan)
Shitty things that happened:
1) We lost a precious 40 min in our very first station due to a WRONG CLUE GIVEN! That sux big time and took away our opportunity of being the top 3 teams.
2) Pebble path walking was really bad... had to walk one round individually along the 100m long pebble path barefoot, followed by another 2 rounds as a group. The sucky part came in at the end, when we were awarded only a measly 4 (out of 20) for completing the station. We saw another group with the full score (20), and it seemed apparent that chio bus do indeed stand a better chance with the chubby geezer-of-a-station-master.
3) Almost lost out at one station because the station mistress had half a mind to give us only 2 marks due to cheating (which I vehemently disagree - I merely sped up the process =)).
What happened?
We were supposed to unlock 4 number locks from a playground, using clue sheets requiring us to solve mathematical puzzles (thereby deriving the numbers on the lock) - I sped up the process by breaking the codes on all the locks (they never say cannot break lock waht...) and bringing the locks back first, leaving us with the mathematical puzzles to complete.
In the end, we were given points for the number of clues sheets that we solved.
Good things that happened:
1) Chio bus! We saw quite a few of 'em. Let's count the significant ones...
There's one @ Escape Theme Park. She asked us to see our answer to the question for comparison (which Kelly gave a firm no). But I think she's the type that knows she's beautiful and takes advantage of that, and haha.. was she surprised when kelly said 'no'.
There's the other @ the number lock station, where she stood gasping at how we manage to get the number locks without solving the questions ('Gasp! How did you do that?'), and Kelly tried to coerce her into giving us full points in exchange for the secret technique.... haha.. joker.
2) We had quite a bit of fun! Was thinking of going on a hike with Chee wee and ivan in the holidays, and this was twice more productive than hiking along ulu paths around Singapore...
3) We got 4th place, and got an iPod Shuffle 512MB each on top of some cash. And that brings me to the question....
WHO WANTS TO OWN AN IPOD SHUFFLE 512MB??? BRAND NEW, NEVER OPEN, WILLING TO LET GO @ SGD$$140. MAKES A GOOD PRESENT FOR GF/BF ALSO. CALL/SMS 93620231 FAST TO AVOID DISAPPOINTMENT!!!
More information on iPod Shuffle